Here is a selection of HEINOL® Special Cleaner:
We will advise you which product is best suited for your application.
Heinol MarkerEx Cleaner is:

for removing waterproof residues of felt pen
to solubilize residues of glue
to remove lift truck tracks
Possible fields of application are on components, reusable packaging, production circulation cards, etc.
optimum safety due flashpoint > 70°C
good alternative to flammable alcohol cleaner
material-friendly
Packaging:
12 x 1 liter per carton

Heinol Foam Cleaner Antistatic is suitable for cleaning and maintenance of machinery, equipment enclosures and glass tubes.
Application:
Spray Heinol Foam Cleaner on water-resistant surfaces of machinery, equipment enclosures or glass tubes and wipe dry with a clean, dry cloth. Heinol Foam Cleaner antistatic may be diluted with water up to a ratio of 1:10 depending on the application.
As cleaning cloth we recommend Heinol New Tex 941 blue (Item No. 1203) or the 2-ply Paper Towel Roll (Item No. 1204).
Packaging:
12 x 1 liter per carton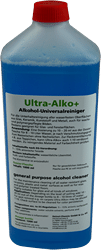 Heinol Ultra-Alko+ highly concentrated is a versatile professional cleaner which is suitable for the following applications:
Cleaning of water-resistant floors with light dirt accumulation
for window cleaning
for cleaning plexiglaspanes at machining centers
Cleaning of cleanrooms
Cleaning floors in sanitary facilities
Cleaning of linoleum floors
for carpet cleaning
Application:
Depending on the application Heinol Ultra-Alko+ must be diluted strongly with water. Spray the diluted solution with the spray bottle Heinol (Item 1701) onto the surface or apply by wiping the surface.
Please collect dirt solution with a cloth and if necessary wipe with clear water.
Pour the concentrate into the preparatory cleaning water. This allows you to avoid foaming on dilution. For slight pollution, the concentrate may be diluted with water up to a ratio of 1:1000
For carpet cleaning, a 1:10 dilution is recommended.
Accessories:
Dosing (Item No. 2101)
Spray bottle (Item No. 1701)
Packaging:
12 x 1 liter per carton